Tripods – the three-legged objects – are the basic tools you need to hold your camera steadily.
In fact, Tripods are the most recommended tools for having great quality images.
It is one of the important accessories that you can have for your camera.
However, choosing a good-quality tripod can be quite a challenge for you as there are so many brands and options out there.
To make your task simple, here we have featured a list showcasing 10 Best Camera Tripods for DSLR.
These camera tripods are suitable for all photographic needs and budgets.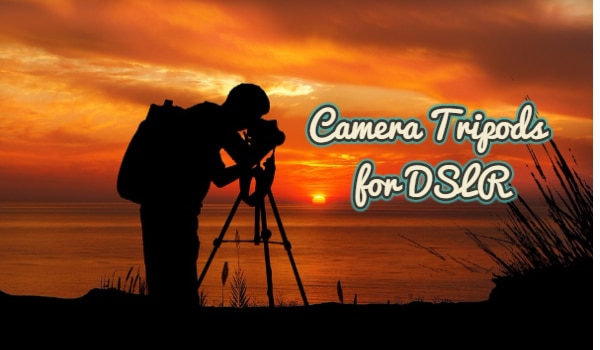 We have featured tripods from well-known brands with superb stability and good extras. And all of them hit the right price.
It's a list that you can count on.
It has been compiled after countless hours of research to offer you the best tripods for the camera.
Now, we head straight to the list and showcase you the Ten Best Camera Tripods for DSLR.
Below the list, we have featured some very useful sections on DSLR Tripods. So, if you are having any doubt about tripods, it gets cleared right away.
You may also like: Best Ring Light for Photography & Video
For now, here's the list of best tripods for DSLR:
10 Best Camera Tripods for Beginners to Advance
Vanguard is a global company that's manufacturing photography equipment for over 30 years. Its commitment to innovation has led it to create the highest quality products for photographers at an affordable price.
The Vanguard Alta Pro Tripods have been rated as the most flexible tripods in the world. The Alta Pro tripods come with unmatched versatility and stability, offering you more shooting angle than ever before.
The Alta Pro tripods have been specially designed for macro-photography. It makes taking wide-angle shots a breeze.
Its Multi-Angle Central Column (MACC) system enables you to move the central column from zero to 180-degree angles thereby facilitating vertical and horizontal movements.
The 26mm 3 section aluminum alloy legs can adjust to 25, 50 and 80-degree angles and enable extremely low angle photography.
Its ball head can rotate 360 degrees and has a quick release plate and bubble levels. The Instant Swivel Stop-n-Lock (ISSL) System can securely reposition the central column in one simple movement.
It comes with premium magnesium die-cast canopy and anti-shock ring.
The Alta Pro tripod offers superb stability and loading capacity of as much as 15.4 pounds.
It's available in Carbon Fiber or Aluminum.
Folded height: 28.125″; Extended height: 68.125″, Weight: 5.38 lbs/2.44 kg.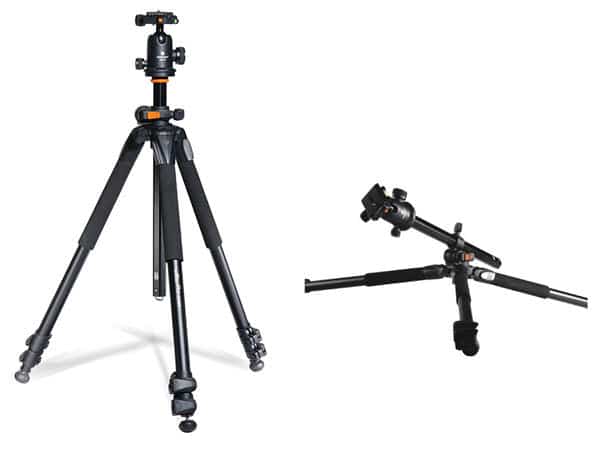 Rangers Aluminum Tripod is a finely crafted and highest quality product. It has 360° Panorama Ball head and proves ideal for travel and work.
It's specially designed ball-head can rotate 360 degrees and allows you to get the perfect shot every time. The ball-head comes with two built-in levels which enables you to get the straightest shot possible.
It comes with 4-section column legs and quick release flip-locks. You can adjust the working height from 14" to 55" in seconds.
It even features a removable leg that can be converted into a monopod.
Its newly designed flip-lock brings greater stability while shooting.
Moreover, it's finely crafted with the precision CNC machine thereby offering you the highest quality product.
Rangers Tripod is ideal for low shooting angles.
Its 14" compact storage size and 2.89 lbs weight makes it easy to carry anywhere for outdoor shooting.
It's compatible with Canon, Sony, Nikon, Pentax, Olympus, Lumix, Fuji-Film, and Leica.
Specification:
Material: High-density Aluminum alloy
Max Load Capacity: 26.5 lbs / 12kg
Max Height: 55 in / 1410 mm
Min Height: 15 in / 385 mm
Storage Length: 14 in / 360 mm
Max Height converted to Monopod: 57 in / 1450 mm
Leg Lock Type: Flip lock
Number of Leg Sections: 4
Max Tube Diameter: 23 mm
Mix Tube Diameter: 14 mm
Weight: 2.89 lbs / 1.31 kg (Includes Ball-head)
Includes:
1 x Rangers 55″ Tripod with ball-head
1 x Pocket
1 x Carrying bag
2 x Wrench
1 x Manual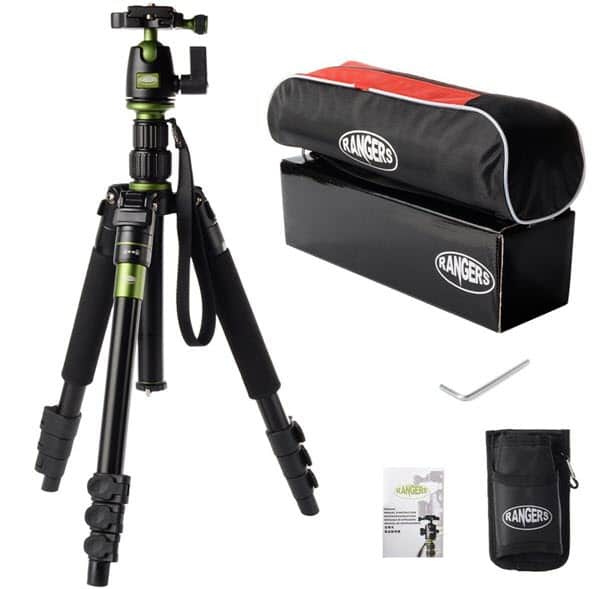 The immense flexibility and the ability to switch between tripods to monopod shooting make Albott Tripod Monopod one of the most suitable out there for your various photography needs.
It features a Center Column that can convert to a 5-section monopod. It has a 3-way head that supports loads up to 8.8 lb. It is most adapt for both photo and video applications.
The head offers pan and tilt control. It's horizontally tilting camera platform can switch to 90-degree portrait orientation.
A quick-release plate is provided for easy camera attachment and a standard 1/4″-20 screw and video register pin is included.
The tripod can attain a max height of 70″ with the center column extended. It has a minimum working height of 21″. It can reach a height of 65″ when the center column is removed for monopod use. It can be used on virtually any surface.
The tripod legs come with rubber feet that can be made to rotate and reveal metal spikes.
It includes a carry handle, foam grips on the base, and also a center column hook for hanging extra accessories.
It offers flip-locks for leg height adjustment and a telescopic panhandle.
It comes with a padded carrying case for convenient storage and transport.
Specification
Load Capacity: 8.8 lb (4.0 kg)
Pan Range: 360°
Tilt Range: 180°
Lateral Tilt: 90°
Tripod Mode: 70″ (178 cm)
Monopod Mode: 65″ (165 cm)
Maximum Height w/o Column Extended: 58″ (146 cm)
Minimum Height: 21″ (54 cm)
Folded Length: 22.4″ (57 cm)
Tripod Mode: 4
Monopod Mode: 5
Package Includes:
1 * Albott Tripod (include three-dimensional head)
1 * Albott Instruction
1 * Albott Carrying Bag
1 * Albott Gift Box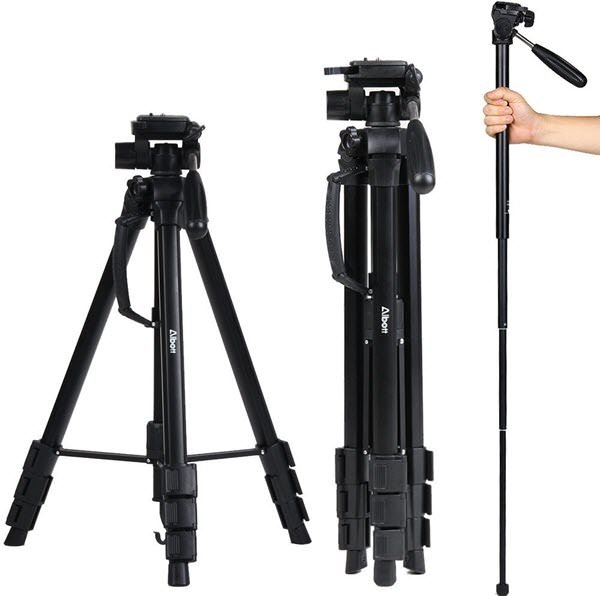 Neewer Carbon Fiber Camera Tripod is a steady, lightweight, and good camera tripod monopod. It is a 2-in-1 tripod whose one of the leg can be used as a monopod.
It offers quick release leg locking for a convenient leg handling. Its universal ball head design comes with two locks and 360-degree dial for photographers to adjust angle free and quickly.
It comes with new generation high-density carbon fiber tube. It has high-temperature curing, and high pressure strengthening polymeric structure.
Its quick release mounting plate ensures the fast transition between shots. The legs feature 4-segment interlocking crutch-type design. Its center column design has a hook that can be attached to sandbag for increasing stability.
Its swivel ball head with bubble level offers you the possibility of a panoramic view. The three position leg angle adjustment system offers flexible shooting.
Specification:
Material: Carbon Fiber
Maximum Height: 63″/160cm
Minimum Height: 17.7″/45cm
Loading Capacity: 33lbs/15kg
Screw: 1/4″
Color: Black + Red
Package Contents:
1 x 63″/160cm Carbon Fiber Tripod
1 x Carrying Bag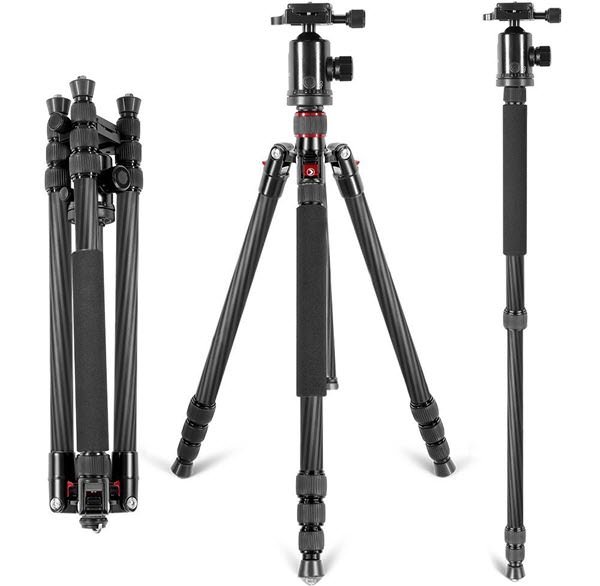 Manfrotto is a well-known name in the world of photography equipment.
The MKBFRA4-BH BeFree Compact Aluminum Travel Tripod was released in 2013 and still reigns supreme in the world of camera tripods.
In fact, it is one of the best travel tripods out there. It supports light and compact design and offers exceptional value.
The BeFree Travel Tripod weighs 3.1 pounds on its own and supports a payload of 8.8 pounds. It has a maximum height of 56.7 inches. In the contact form, the BeFree is just 15.8 inches tall. So, it can be easily stored in luggage or a backpack.
Although the BeFree Travel Tripod has a lightweight feel, it doesn't compromise on sturdiness or image quality. Its aluminum ball head is solid and easy to operate. So, you can easily align the camera for a shot.
The BeFree has the option of two separate leg positions. You get much versatility for camera positioning. Its special design with head ensures that a camera can stay firmly locked in position.
The BeFree Camera Tripod comes in a padded carrying case. So, you can conveniently store and protect the BeFree from any accidental damage while it is not used.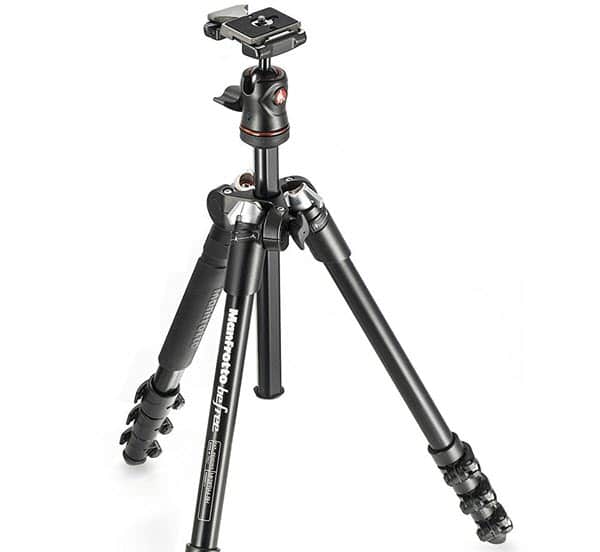 K&F Concept is the best budget tripod.
It's a very lightweight tripod weighing only 2.99lbs.
Its folded height is only 18.1" (460mm).
So, it is easy to carry on travel.
The tripod is best in practical and portability factors.
Its maximum height reaches 62" which is perfect for stability as well as shooting. Its minimum height is 16.1" to meet your various photographic needs.
It comes with a powerful and quick flip leg lock. Moreover, it is very easy to use so that you can stay focused and enjoy your shooting.
Its spring self-locking tube angle adjustment knob enables you to adjust the angle of the three tripod tubes quickly.
Its ball head is specially designed to offer the stability of the cloud platform. Its quick release plate enables you to connect and disassemble the camera in seconds. Its pull-out type lock makes operation easy and quick. Its dense sponge grip gives you intimate protection.
The tube is of quality magnesium alloy that is light and stable. It can be reversed 180 degrees for easy outdoor carrying.
The metal ball-head can be rotated 360-degrees for perfect panoramic shooting.
The DSLR Tripod comes in a portable carrying bag making it easy for you to protect the tripod.
Product Specifications
Item Color: Black
Item Material: Magnesium aluminum alloy
N. Weight: 2.99lbs
Section: 4
Max. Tube diameter: 0.9" (23mm)
Folded Length: 18" (460mm)
Min. Height: 16" (415mm)
Max. Height: 61.61'' (1565mm)
Height without center column: 52.36'' (1330mm)
Load Capacity: 22.04lbs (10kg)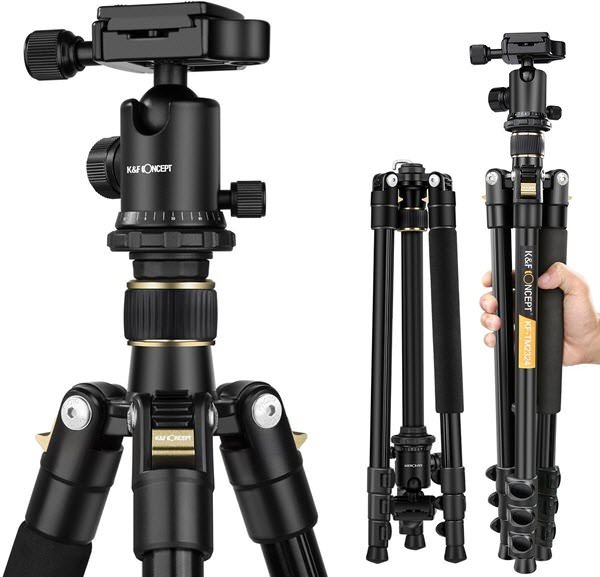 If you are looking for a reliable, compact, and lightweight camera tripod for everyday use, then the MeFOTO Classic Carbon Fiber Travel Tripod can come out as the perfect choice for you.
This MeFOTO Globetrotter folds up inversely and can also turn into a full-size monopod without using any tools.
It's available in carbon fiber or aluminum in Black or Titanium.
You can use the Globetrotter with many different style cameras such as a DSLR with a zoom lens.
It is studded with a dual action Q series ball-head with Arca-Swiss style quick release plate.
The GlobeTrotter can be converted into a full size 64.2″ monopod. Moreover, the tripod legs can be inverted and folded back 180 degrees to transform it into a compact size of 16.1″.
So, with this Globe Trotter, you get a height range of 16.1″-64.2″.
It is a lightweight camera tripod and weighs only 4.6lbs.
However, it is very stable and can support up to 26.4lbs.
So, it is perfect for your DSLR cameras and larger lenses.
The two leg angle positions give it flexibility and allow shooting in cramped quarters and even on irregular surface areas.
The tripod comes with twist lock legs with the anti-rotation system. It has rubberized locking grips that allow fast and fumble-free setup.
With this Globe Trotter, you can obtain accurate panoramas with 360-degree panning.
Plus, it is weather and dust resistance.
It comes with a carry case for easy transportation and protection. It is backed by MeFOTO's five-year warranty.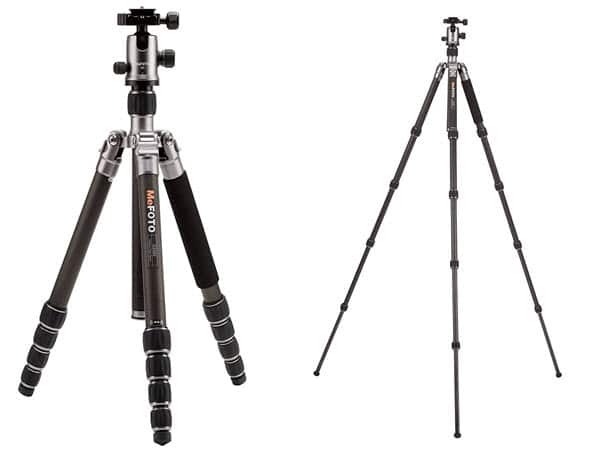 The Vanguard has been a leading name in photography equipment for over 30 years. Its commitment to innovation has led it to create the highest quality products for photographers at an affordable price.
The Vanguard VEO 204AB is a super compact, steady, and lightweight travel tripod with Ball Head. Its innovative rapid column rotation feature allows quick set up and takedown.
Its 4-section aluminum alloy legs have been equipped with extra strong leg locks giving it a higher loading capacity than other tripods of its kind.
It comes with three different leg angle options and a special adaptor that allow for extra low angle photography. Its soft rubber handle provides a superb grip, in any weather.
The VEO 204AB is truly made for versatility and dependability and is a perfect companion to the traveling photographer.
The Vanguard VEO Tripods come with remarkable portability and still does not sacrifice sturdiness.
It offers strong stainless steel quick flip leg locks that have adjustable tension technology. It is equipped with Arca-Swiss compatible quick release plate.
Its new angle locks enable you to select between 3 different angles for greater shooting possibilities rapidly.
With these entire remarkable features, the Vanguard VEO 204AB comes out as the perfect go-to travel tripod.
It includes a carrying case for protecting the tripod when not in use.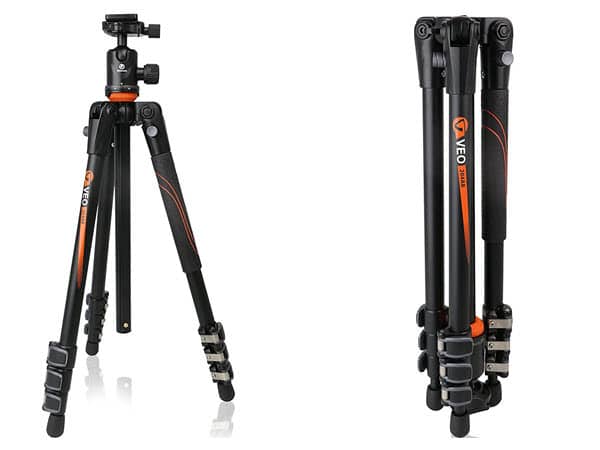 This AmazonBasics lightweight tripod is perfect for most cameras up to 6.6 pounds.
It comes in a bag that makes storage and transports a snap. It is suitable for digital, video, or still camera.
It has two built-in bubble view levels.
Its tripod's legs can be extended from 20-inch to 48-inch. The leg locks get released smoothly and glide easily to attain the desired height.
With the built-in level (above the legs) you come to know when the base is level. Moreover, the rubber feet can be adjusted to achieve the perfect position.
It's a thoroughly lightweight tripod with adjustable-height legs.
It can support a max load weight of 6.6 lbs (3 kg) (recommended) for optimal performance.
The carrying case is included.
The AmazonBasics camera tripod is one of the best budget tripods available in the market.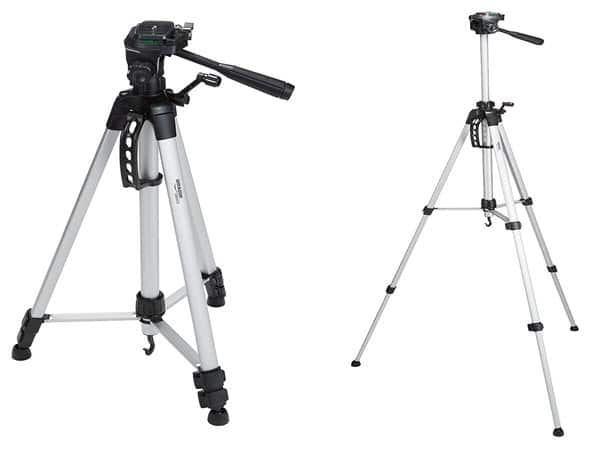 This JOBY Flexible Camera Tripod (GorillaPod Focus with Ballhead X Bundle) helps you to focus crisp photos, smooth videos and is highly suitable for optimal media consumption.
It is one of the strongest GorillaPod out there with superior hold. It's a lightweight, professional tripod that is designed for use with the DSLR, Pro DSLR, external flash, and camcorders.
It can support weight up to 11 lbs (5 kg) for stabilizing your images for a clearer click.
The 360 pan and 90 tilt knobs offer extra versatility for a flawless image or video footage. It helps you to unleash your creativity.
Its Arca-Swiss compatibility system and quick release plate allow seamless transition on the go. Its flexible legs can hold the camera or professional equipment weighing up to 11 lbs.
Its rubberized ring and foot grips help to keep your gear stay strong. Its octopus styled tripod legs can easily wrap around any structure, from fences to trees.
It can easily fit in your camera bag or backpack and can be taken virtually anywhere.
The JOBY Camera Tripod is a steady structure for taking perfect photos.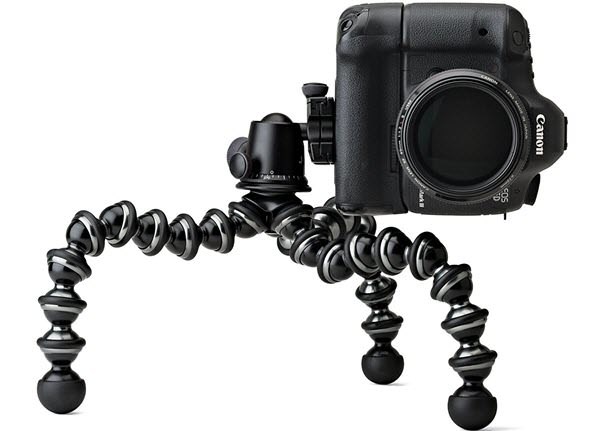 What is a Tripod System?
A tripod system consists of the following parts:
Legs – They are typically made of aluminum, steel, or carbon fiber.
Head – It holds a digital camera or a lens. The most popular ones are ball-heads and pan-tilt heads.
Centerpost/Center Column – It is a leg that runs through the middle. It allows furthering is raising the tripod head.
Feet – they are found at the end of the legs for indoor and outdoor use.
The cheapest tripods come with legs and an integrated non-replaceable head and feet. They also have a Centerpost.
The top-of-the-line tripods feature a modular tripod system. They have replaceable feet and allow you to attach a separate tripod head.
Why you Require a Tripod?
You might require a tripod for some or all of the following purposes:
A tripod keeps your camera still in low-light environments.
It helps to increase sharpness and depth of field in your images.
It is used to rest heavy camera gear (ex: long telephoto lenses) on the tripod.
It keeps the camera ISO low thereby increasing the quality of images.
It helps to frame the shot exactly the way you want it.
It helps to take HDR and panoramic shots.
It is used to photograph nighttime objects like Moon, planets, stars, etc.
It is also used for landscape and architectural photography.
For taking self-portraits with a camera timer.
For shooting extreme close-ups like flowers and insects.
For holding various objects such as flashes and reflectors.
For shooting at difficult angles.
For shooting vibration-free videos.
Spotting a Good Tripod
Do you know what the prime concern with a Tripod is?
Well, you got to ascertain what your tripod is made out of.
It's a little bit tricky thing.
And you ought to know what serves the best material for your camera tripod.
It's certainly not plastic.
To let you know, the most popular materials for camera tripods are aluminum, carbon fiber, and quite surprisingly wood.
However, the final choice depends on three factors: weight, price, and vibration dampening.
For instance, let us take wood.
Wood is quite affordable and highly efficient at absorbing vibrations. However, it weighs a ton.
Then, carbon fiber is light and stable. However, it's priced on the higher end.
On the other hand, aluminum is fairly light and affordable but prone to channeling vibrations.
Now, if we have to pick the best and the most suitable material for camera tripods, we would certainly go with Carbon Fiber.
They are very popular right now with professional photographers.
They are especially light and excellent for traveling.
They even absorb vibrations quite well.
Moreover, they have become more affordable than ever.
They are the best material to have for camera tripods.
Interesting photography requires the best possible gear.
We recommend that you should go for the top-of-the-line gear so that you don't have to run into costly upgrades later on.
So, Carbon fiber comes as the right choice for camera tripods.
What to look on a Tripod?
Firstly, you should look how tall a tripod can get.
Most tripods come with specs for their maximum height with the center column fully extended.
You should also check the minimum height. It will help when you are working close to the ground.
It should be noted that the tripod height increases when you attach a tripod head and your camera atop that.
Then, you must know how large a tripod is when you collapse it all the way down.
You should also know how much the tripod weighs.
It can be instantly known when you go about trekking with one strapped to your back.
Finally, you must know how much gear a tripod can hold.
Talking about the extras, you should check that the center column does something beyond the usual up and down.
Some can swing outward.
Some let you reverse them.
Does the tripod have a carrying case?
Can the feet put on spikes for countering unstable positions?
Do the legs come with foam padding for holding off in the cold?
These are the things that you should keep track of while going for a camera tripod.
Choosing a Camera Tripod
Here, we list down the factors you should consider when buying a tripod. Tripods can be small and compact, to large and heavy. Let's have a look at the factors and identify your needs.
Firstly, you should check how much weight a tripod can support. Can it hold heavy camera equipment?
There is no point in having a tripod that collapses, destroying the camera and the lens.
Here, we want to stress that the tripod you buy should hold at least 1.5 times more than the gross weight of your camera or the heaviest lens. If this can be 2x more, it would be perfect.
Remember, that you sometimes apply pressure on your camera and even rest your hands on the setup. All this adds to the weight. You may even shoot with something heavier in the future.
The second consideration is the height.
You should buy a tripod that matches your height.
This will help you avoid bending when looking in the viewfinder.
If it is below your eye level, you will always have to bend.
It's a tiring experience all together especially when you have to look through the viewfinder constantly.
Another big factor is that the tripod should be easy to fold. It should fit in your carry-on luggage.
The third factor is the tripod weight and construction.
You would never like to buy a tripod that is too heavy.
That said the lightest tripods have carbon-fiber material.
It is highly durable, stable, and rust free.
However, carbon-fiber tripods are priced on the higher side.
The cheapest tripods are made of aluminum.
Ideally, the weight of a camera tripod should not be more than 5 pounds.
The fourth consideration is the tripod legs.
It is available in two forms: Tubular and non-tubular.
The carbon-fiber legs are available in a tubular form and feature a threaded twist-lock system for securing the legs.
There can be 3 to 5 sections on tripod legs. The more the number of sections, the higher the tripod and a little less stable.
The fifth consideration is the tripod feet.
For advanced tripods, you can replace tripod feet for different conditions and situations. They can be unscrewed on the bottom of the tripod legs.
The tripod feet for indoors are usually made of rubber or plastic. The outdoors use metal spikes.
However, the standard rubber feet works fine in most of the situations excluding icy, rainy or slippery conditions.
Next, you have to consider the Centerpost.
It is a single leg in the middle of the tripod.
It can be moved in the upward or downward direction.
It is useful in increasing or decreasing the height of the camera.
However, a Centerpost can cause too much vibration.
It is like having a monopod on top of a tripod.
If you get a tripod with a Centerpost, ensure that it fully declines to the same level where the tripod legs meet.
It should not wobble at the lowest level.
The next consideration is the tripod head.
It is used to hold camera equipment and control camera movement securely.
So, it's the most important part of the tripod system.
Here, you should keep in mind that the tripod head should support at least the same amount of weight as the tripod legs.
The common types of heads include:
Pan-Tilt Head: It is the most common type of head and featured in cheap tripods. It has a single handle for horizontal movement or dual handles for both vertical and horizontal movement.
Ball-Head: These have only one control for tightening or loosening the grip. They are very flexible and allow smooth operation.
Gimbal Head: It's a specialized head for long & heavy 300mm+ lenses. They perfectly balance the camera and are most suited for fast-action photography. They can be moved in any direction.
Next is the quick-release system.
It allows attaching the camera/lens on a tripod without having to rotate anything. However, it is not cheap, and you may have to purchase separate plates for each camera and lens.
The last factor is the stability.
A tripod has to withstand the occasional bumps and knocks out in the field. Moreover, your camera and lens need to balance on a tripod so that there is no damaging to the equipment.
Your tripod should be stable enough to withstand various weather conditions.
These are the criteria that you should consider when selecting the right camera tripod.
Here, we would like to state one more point.
If you are buying a tripod for the first time, you should look for the cheapest tripod available because you do not know how long you would be using it.
Moreover, if you want to use a tripod occasionally, an inexpensive one will serve your purpose.
If you just got into photography, there is no point spending $500 on a darn tripod!
A good tripod should be priced between $75 and $150.
That's fairly a good price to pay for a simple tool like a tripod.
However, if you are a seasoned photographer, you invariably need to invest in a top-of-the-line tripod system. That can cost anywhere from $300 to $500.
Lastly, you should go for a tripod that is not too heavy and hard to use. It should also be an easy carry for traveling.
Considering these little things, you end up saving much effort and money on a camera tripod system.
That's all in this presentation on ten best Camera Tripod for DSLR. We hope that it proves immensely helpful to you. If you liked the post, please share it on Facebook, LinkedIn, Google Plus, and Twitter. We welcome your comments and suggestions.